Source: Fishing Industry News SA
Last week, Afro Fishing heard that its Environmental Authorisation (EA) application has been approved. The Garden Route District Municipality (GRDM) has also issued a Provisional Air Emissions License. It has taken nearly two years to get to this point.
The Provisional Atmospheric Emissions Licence is valid for six months from the commissioning of the boiler and Regenerative Thermal Oxidiser (RTO).
Afro Fishing will no doubt follow to the letter the requirements of the Environmental Authorisation. This will give the company a further year before needing to reapply for a new Air Emissions Licence. Monitoring data must be submitted on a regular basis.
The construction phase of the EA must be concluded by 31 July 2025.
Growing Up. Afro Fishing Expansion Project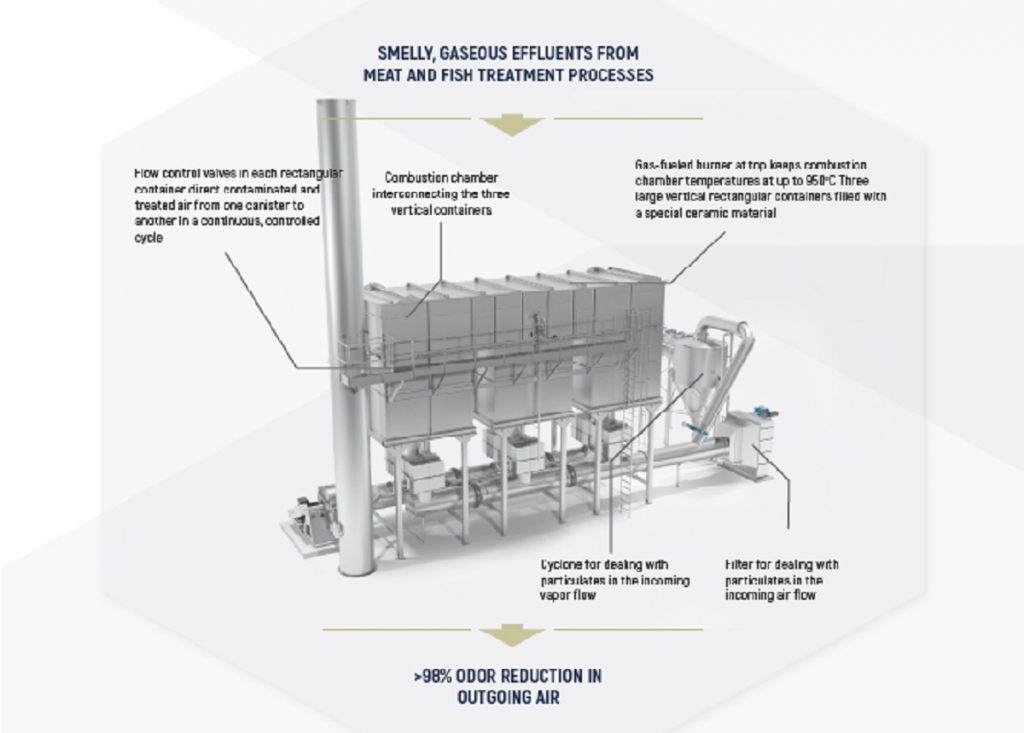 New technology to be used
Afro Fishing intends to install a modern facility using new technology in the form of a RTO. It will be the first time this technology is applied in South Africa. It has already proved successful in similar facilities in Europe.
These plants are generally not prone to faults or breakdowns. However, specific training will be drafted for the RTO and critical spares will be kept in stock.
The expansion project and the requirement for additional boiler capacity will trigger the 3000kW General Machinery Regulations 1998. This means that Afro Fishing will be appointing technical staff including a competent mechanical or electrical engineer for the site.
RTO Technology. Keeping the Whiff Away
Afro Fishing currently holds a Coastal Waters Discharge Permit. This is in terms of the National Environmental Management: Integrated Coastal Management Act which is monitored and managed. Based on this no marine impact assessment was proposed for this project.
Resistance to project
The R400-million investment will benefit local service providers. Despite this there has been vehement resistance from many Mossel Bay residents and members of the business community.
Primarily they are concerned that the "stink" will drive away holidaymakers and potential investors. There are also concerns, amongst other things, about increased traffic to the harbour. Questions about changes to the quality of sea water, and how the fish will be landed and processed, have also been asked.
All these concerns are documented in the 467-page Comments and Responses Report (Annexure F5) of Final Basic Assessment Report. This formed part of the public participation process.
Afro Fishing Expansion. Socio-Economic Positives Outweigh Negatives
There have also been many questions about the shareholding of the business. This is largely to do with one of the shareholders, Johan Breed, who has Angolan and Namibian fishing interests.
Breed's name has surfaced in documents uncovered in a massive corruption scandal in the Namibian fisheries.
Afro Fishing for its part, says that even though there is a common shareholder, this is irrelevant to its operations.
New Fishrot Fiddles and Whistleblower Surfaces
Fishing activity
Afro Fishing says it hopes to diversify its current pilchard canning operation into anchovy and red-eye reduction as well. The company is currently working towards acquiring ISO22000 (a food safety management system).
Afro Fishing does not have its own quotas and purchases fresh fish directly from its suppliers. All the raw materials are processed to achieve maximum protein collection so there is no offal.
The plant has a design capacity of 1000 t.p.d.
The amount of fish that will be processed every year is expected to be between 30 000 and 50000 tons. This is despite the fact that scientists estimate that the red eye herring biomass in the southern and eastern Cape waters exceeds one million tons.
Furthermore, Afro Fishing anticipates it will run at full capacity for between four to eight weeks per year. Thereafter it will operate at reduced capacity and only whenever fresh fish (anchovy and red eye herring) is available.
During peak holiday time between mid-December and mid-January no fish processing will be carried out.
The lifespan of the factory will initially be 15 years which is the same as the Port of Mossel Bay lease.
The proposed expansion is in line with the Port Development Framework Plan for the port as published in the Transnet National Ports Authority National Ports Plan of 2019.
It is likely that the recent finding of oil condensate in the southern Cape offshore region will expedite the future long-term planning for Mossel Bay harbour.
Keep Watch. Exploration Activities To Impact Fishing
Appeal process
The notice issued by the provincial Department of Environmental Affairs & Development Planning (DEA&DP), says appeals must be lodged within 20 days of the date of the environmental authorisation dated 27 July 2020.
Source: https://bit.ly/3gObrH8