Source: Fishing Industry News SA
Some recreational fishermen are doing what they are not supposed to do – jigging fish. This was recently noted in the areas of Port St Johns and Port Shepstone on the KwaZulu Natal South Coast. Non-compliance is an ongoing issue that responsible anglers take exception to. But this does not currently seem to feature on government's agenda.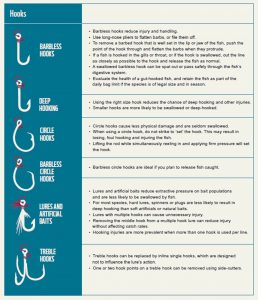 "It is sickening to see fishermen lining the banks near the river mouth (Port St Johns) jigging Garrick (Lichia amia) with bare treble hooks and a sinker. They are hooking plenty of good sized fish. Some get away and have torn skin, while others are landed and killed," writes a Facebook friend, Craig Thomassen, who has observed this activity first hand.
"I can't tell you how sad it is to see these breeding adult fish, which have come up to KZN to spawn, getting wiped out like this. Over 40 large fish were caught here in one afternoon."
This is an illegal practise and a growing trend, according to Cameron Johnston. He says on a Salt Fishing South Africa Facebook Page that anglers are targeting Garrick, a vulnerable species under huge pressure.
A recreational permit only allows for catching fish with baited hooks or artificial lures. But anglers are casting out lines with a number of trebles on them to foul hook fish.
Says another observer: "If you see how many Garricks some of KZN fishermen take 8 or 9 at a time is bad. Take your limit, not unlimited. Some people are just idiots." The bag limit is two.
According to reports fisheries officials have confiscated bucktail, jigs, paddle tails and Rapala's from anglers, but turned a blind eye to the fish jiggers.
UPDATE. Recreational Fishers Get the Nod to Fish
Economic Survey
This type of abuse angers recreational fishing associations and responsible anglers who have been working hard to formalise this sector. Top of mind is to ensure its sustainability.
In 2017, a team of researchers led by Dr Warren Potts from the Department of Ichthyology at Rhodes University, completed an Economic Survey of the Recreational Fishery (marine and freshwater).
It was funded by South African Fishing Tackle Agents and Distributers (SAFTAD) and the Department of Trade and Industry.
The details of the paper was shared at the 5th Marine Linefish Symposium in 2019. These research paper is titled "Striking disconnect between the economics, policy and management of SA's marine recreational fisheries".
Report. Marine Linefish Research Highlighted
This paper contextualised the current status, economic impact and current state of governance of the marine recreational fishery. It included recommendations to improve the status quo.
To do this the recent research on South Africa's marine recreational fisheries was summarised. This included estimates of the number of anglers and their catch, an economic impact assessment and information on the importance of fish as food.
It also addressed compliance of marine recreational fishers and a review of the efficacy of the governance of marine recreational fisheries.
Results
The results showed that recreational fishing contributes massively to the SA economy and the employment of some 94000 South Africans. Most jobs are in the trade, accommodation and catering sector, but also in the informal sector as bait collectors, guides and fish cleaners.
It also showed that increasingly recreational fishers rely on the fish they catch to supplement their daily food requirements.
The report highlighted several interesting facts.
Marine recreational anglers total about 728000 based on information available about the number of licenses
Their annual spend is in the region of R15 billion a year
Are members of a social angling club
Most prefer rock and surf angling or off the shore of an estuary
Marine anglers' preferred species is Cob/Kabeljou (Argyrosomus spp.), King Mackerel (Scomberomorus commerson) and Shad/Elf (Pomatomus saltatrix) There is a closed season for Elf / Shad) from 1 October to 30 November in any year.
85% support catch and release even though many released (mandatory or voluntary) fishes do not survive a catch and release event
78% said they had never caught tagged sea fish
73% did have a valid recreational angling permit
Most anglers were based in KwaZulu Natal and Gauteng
Compliance
In other research Bova (2018) conducted a study on the compliance of marine shore-based recreational anglers. Using specifically designed techniques (ballot box method) to obtain truthful responses from anglers, Bova found that non-compliance to the recreational angling regulations is very high.
A total of 48.3% of recreational anglers are non-compliant to at least one regulation. Non-compliance was most prevalent for size limits (24.6%), licence possession (19.3%) and prohibited tackle (11.1%) regulations. Conversely it was very low for marine protected area violations (2.2%).
The Economic Survey of the Recreational Fishery also highlighted this. Some recommendations included, among others, that:
Consistent and visible policing is necessary for the greater protection of fish resources. This will help to prevent illegal gill-netting both in estuarine and freshwater habitats
There must be more effort to educate the public about the need to conserve fish resources
All angling license fees collected should go to the conservation of fish habitat and improved policing
More fish species should have closed seasons coinciding with periods when they are most vulnerable to capture
That it should be easier for anglers to obtain both freshwater and marine angling licenses. These licences should be waterproof and in card or "App" form.
Government officials should be more 'hands on' as far as fishery permits and related conservation issues are concerned.
Boost international tourism revenue using appropriate advertising channels to market special-interest recreational fishing trips
Make it easier for potential fishermen and -women to access the correct information about angling inland, on the coast, dams, lakes, etc.
PMG meeting update
Recently the topic of the recreational fishing industry came up for discussion during a Parliamentary Monitoring Group meeting. Attending were various stakeholders in the commercial fisheries including the aquaculture sector, as well as World Wildlife Fund (WWF) South Africa.
Craig Smith, Senior Manager: WWF South Africa's Marine Programme, listed several of WWF-SA's successes, including launching a recreational guide on responsible fishing.
According to him there is no dedicated management of the recreational fishing sector even though it is the largest fishing sector in South Africa contributing more to the economy than the commercial fishing sector.
In his opinion, he said, the recreational fishing sector is "falling through the cracks." In particularly, the impact of climate change was seeing temperate species move eastwards and tropical species more southwards. This has major implications for fisheries and small-scale fishers.
Data systems were also out of date and there is a need to embrace technology in the recreational sector. This could be a better way of getting communication to recreational fishers. It would also serve to get them on board, ensure responsible fishing, and to get important data from that fishery.
Conclusion
The latest review on the state of global recreational fisheries governance (Potts et al. 2019) would bear out Smith's comments.
The review used experts to gauge the efficacy of recreational fishery governance in over 27 countries, including South Africa.
While governance of recreational fisheries is deemed to be poor around the world, South Africa ranked poorly compared to both the developed and developing countries.
The review also found that the general content of Policies and Acts were rated to be 50%.
The procedures incorporated and referred to in Policies/Acts was rated at 42%, while the efficacy of implementation of the Policies was only 38%.
The researchers recommended a policy shift to recognise the recreational sector as a separate sector. It would seem there is a lot of work to do to remedy this situation.
Video footage of people running from the police on Durban's beaches over the past weekend has highlighted the lack of compliance regarding the lockdown level 3 regulations.
Please note no fishing from the beach is allowed.
Source: https://bit.ly/3gvOMzs