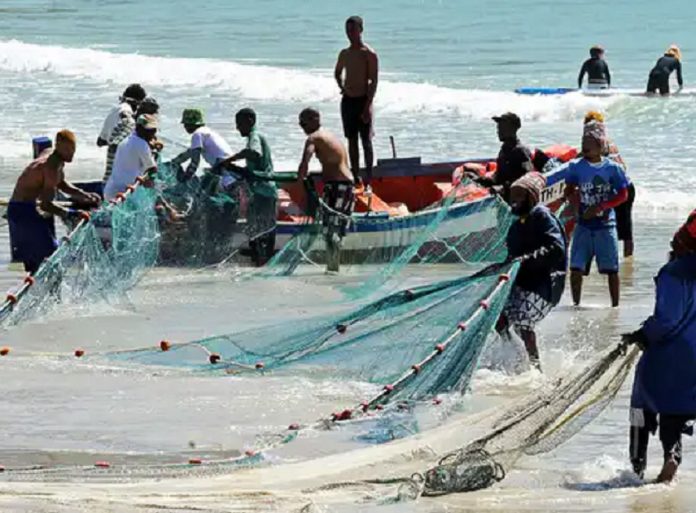 Small-scale fishers are enormously stressed but this is not just a local problem. Help and a clear focus on the future can ensure positive outcomes post pandemic.
Fishing is an essential service but the South African small-scale fishing sector has in a space of a few months lost its main export market. Nor has it been able to trade in the domestic hospitality market.
Government intervention
In late April, President Cyril Ramaphosa committed to allocate a portion of the R500 billion aid package to "the relief of hunger and social distress in our communities across the country."
In a speech on the subject, he said:
"While we have put in place measures to protect the wages of workers in the formal economy and have extended support to small, medium, and micro-sized businesses, millions of South Africans in the informal economy and those without employment are struggling to survive."
Earlier, the Department of Environment, Forestry and Fisheries had announced the extension for the current fishing permits for an additional three months.
It also launched an initiative that would see the resumption of exports to China under South Africa's level-four restrictions and introduced a small-scale fishers food relief programme. This enabled thousands of food parcels to be distributed countrywide.
This has not been enough and while restaurants are now trading, the spike in COVID-19 infections continues to impact the sector.
Supplementary budget
The last straw for small-scale fishers was the 24 June proposed supplementary budget review.
Presented by Finance Minister, Tito Mboweni, the budget excluded the fisheries sector. This gave Coastal Links South Africa impetus to draft a letter to the Minister of Environment, Forestry and Fisheries.
In it they ask for compensatory relief to mitigate against the losses the small-scale fisheries sector has experienced.
With no remedial structures in place to allow fishers to sell or market their fish effectively, they want the following:
The internal departmental budget adjusted and directed to the fisheries management programme, especially small-scale fisheries and its support and capacity building programme.
Priority given to strengthen and support the development of local economies and food systems. This should include investment in cold storage, processing and marketing facilities.
Appropriate personal protective equipment (PPE), and other inputs, including gears, training and capacity building to be supplied to small-scale fishers.
Funding to finalise a Fresh Water Fishing Policy for inland fishers. Currently they operate informally and/or use recreational permits. This leaves them legally unprotected.
More participation and a say in decisions on budget allocations and department programmes related to fishing.
Implementation of the universal basic income grant. This should be sufficient to live on and support all communities to help alleviate poverty.
Importance of food security
South Africa's small-scale fishers can take comfort that they are not the only ones struggling with COVID-19 emergency measures.
The African Confederation of Professional Organisations of Artisanal Fisheries (CAOPA) has written a letter. This has been sent to fisheries ministers' of member countries. It has also been sent to the African Union, ECOWAS, WAEMU and other regional organisations representatives and the FAO, amongst others.
In the letter, CAOPA remind about the importance of their sector for food security in Africa. They underscore how the actions to combat the epidemic is affecting the artisanal fish value chain in Africa. The women are the most vulnerable.
They explain that compliance with some of the instructions is particularly difficult for fisheries. Each step of the value chain requires close contact among the workers.
Watch this interesting webinar from the GIBS Business School
In South Africa, 13.8 million people (25.2 %) live below the poverty line, with 6.8 million households experiencing food insecurity, exacerbated by Covid-19. GIBS academic Marius Oosthuizen who has been on the ground working with vulnerable communities throughout the crisis.
The Nigerian perspective
The Institute for Poverty, Land and Agrarian Studies (PLAAS) at the University of Western Cape, has published an interesting article on its website.
Although this article is a Nigerian perspective, the narrative is similar to that of our own. There are a lot of good ideas for how to make things work in the absence of fisheries-specific relief measures.
https://www.plaas.org.za/african-small-scale-fisheries-in-the-time-of-covid-19-a-nigerian-perspective/
Please read it to find out how to the dark clouds of the COVID-19 pandemic can possibly present a silver lining.
Supply Chains. Working Around COVID-19
Source : https://bit.ly/3gTjyBX